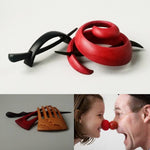 Helping each other - three times
The difficult time of COVID-19 pandemic is going on for a very long time but it does have it's bright sides.
We are learning to live lean, help each other and be considerate to each other. We begin to look more local and yet we're not oblivious what's going on elsewhere.
Time flies and Christmas are here! And in this troubled time the kindness and small things makes us smile and give us energy to push on.
We would like to thank you for your orders, they make us happy. Our products make you happy on the other hand and together we are raising funds for a charity Health Clowns - zdravotniklaun.cz
The Health Clowns visit hospitals, care homes or families to help people who feel lonely or sad. They make seniors and children laugh and lift the spirits when they need it most.
We support the Health Clowns for a long time now because we know from personal experience how important their work is.
You are helping them by shopping out products but you can also help yourself by donating directly.
Merry Christmas