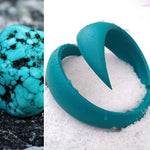 We love challenges that can move us forward.
We all perceive wood and colours differently. We have always tended towards simplicity and colourful austerity. But if you have white, bland wood like HABR, you need to start thinking about what to do with it. It's perfectly hard and lends itself to fine detail, but that disappears in white. That's why we chose an alcohol-based paint with linseed oil on top. This combination accentuates the shape and adds another dimension to the clasp. The colours are muted and provide partial protection from water. But that doesn't seem to be enough.

POINTA?
A very nice and gentle girl with incredibly long hair came over and showed me the stone.
Her question?
Could your biggest pin be in this color and with a white needle?
I was surprised why she wanted that color. It couldn't be mixed from alcohol stains and we had a problem, but we wanted to oblige her. It forced us to settle on a different color palette, a different paint application technique, and a different finish.
If you are open to challenges, a new journey awaits you. Ours started with this girl and her wish. FUNKY COLLECTION was born.
It's not about the art, it's about the feeling that a certain colour evokes in you. We chose permanent, waterproof, chemical-free colours with a matte sheen that allow you to mix a multitude of beautiful shades.
It's a great opportunity for us and you to start playing.
Don't be afraid of colour. They will brighten up your day.