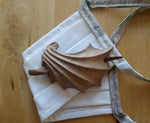 My mind still tries to figure out what is actually going on right now. The days start to be nice and warm as the spring approaches but we are stuck at home.
This photograph shows how we spend our days in a way we think is efficient. Not only we try to create something beautiful for which there has not been much time lately but also we want to help people. Something good has come out of this situation.
March has always been the first warm month of the year in Czech and we have been ready to offer our goods to first shy customers. This year is different. March has come, the sun rays appeared, but streets of Prague are filled with nothing but silence. We are taken by surprise and unsure of what the future brings. Luckily enough, we found something to ease our worried minds. I sew cloth masks and my husband works on things which were usually too time-consuming to make at this time of the year.
He creates models of clips which were hidden deep inside of his memory. Time and nice amount of concentration were needed for these clips to come alive.
Long-desired piece and time has apparently come. I remain optimistic and hold onto good old saying: every cloud has its silver lining. We therefore make the most of the time we gained in this situation and create something new and lovely for people who have always loved what we do and might be waiting for our ideas. We try our best to surprise you. Let the ordered peace be meaningful.