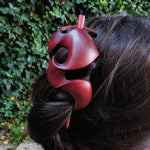 The decision whether to cut your hair or not, especially when long hair is something us ladies are fondly proud of, can be tough sometimes. Long hair needs to be healthy and strong to deserve to be seen as beautiful. So we might have been thinking about cutting our hair many times before in our lives. But then again - it is our boast and we wear it proudly. So we search for both practical and likeable utility for our long locks and it is sometimes quite difficult to find something we like.
Our wooden hair clip might not be suitable for everyone, too, but our long-time experience guarantees the best which a wooden clip can offer. It is not only a decoration, it serves as an elegant servant to tame our wild and strong hair. It needs to be firm to give me a sense of security. It shpuld not be heavy so my head feels at ease and does not suffer from headache. And lastly, us ladies dream to be beautiful and original, so everything we wear should carry a sense of that quality.
Our goal is to make all of your wishes come true so you do not need to trim your hair for even a tiny little bit, on the contrary, we would love to see you wear your hair high and with pride.