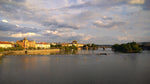 Travelling and getting to know beautiful places around our country is definitely one of the pleasant activities. Some places you visit to admire nature's wonders. Or there are cities like PRAGUE where you just have to be amazed by every piece of work that was made by ancient sculptors, painters or even simple folk.
One of those special spots is the ROYAL ROUTE with world-wide known CHARLES BRIDGE from where you can lead your steps onto the NERUDOVA STREET which you can follow all the way to the spectacular PRAGUE CASTLE. 
Why do I write about all of this? If you take the route described above you may encounter a small, unobtrusive stand, right next to St Jan Nepomuk Statue. There you will find many of our wooden hair clips which are surely worth of your notice. It is the only spot where you find us if you prefer brick-and-mortal shop. If you want to have a look at our products live, not only on our web pages, do not hesitate to come along our stall.